Reach out to our team to learn more about our junk removal services.
If you need help getting rid of old appliances, furniture, construction waste, or almost anything else, you can turn to our team at CamoVets Junk Removal. We have extensive experience in the junk removal business, and we make it easy to get rid of your unwanted items.
As a veteran-owned company, we pride ourselves on providing excellent service for honest prices, and you can count on us to deliver the outstanding results you deserve. Our team also donates and recycles everything we can, so you can feel good about using our services. If you are in Barnegat Township, New Jersey and need help with junk removal, we encourage you to contact our team to find out more about how we can help you.
If you would like to request a quote online now, click the 'Book Online' button. If you would like more information or to contact us directly, please use the form below or give us a call.
CamoVets Junk Removal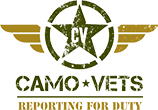 Telephone:
(866) 336-5826
---